---
VAPOUR CIGARETTES AND E LIQUID SUPPLIERS
Vapours E-Cigs Ltd Stalybridge are the premium vapour cigarettes and e liquid suppliers in Greater Manchester and the North West. Come visit our vape shop in Stalybridge near Ashton Under Lyne. We can advise you on the best vaping juice and electronic cigarettes available in the UK.

With next day dispatch of our vaping accessories, we offer excellence that our customers recognise and value. We take pride in leading the way for offering the best vaping selection for Stalybridge and Greater Manchester.
---
Vape E liquids
Vape Mods
Vaping Kits
Vape Pens
Ecigs
Vape Tanks
Clearomizers
Atomizers
Replacement Coils
Vapour cigarettes or E cigarettes were initial introduced as an aid to quit smoking tobacco, but the versatile range of flavours and the benefits it has over smoking meant it quickly became popular in Britain.
Buying E-liquid from our vaping shop is more cost-effective than tobacco in the long run and is significantly less harmful to the body.
The range of accessories and stylish appearance also adds to the appeal. If you're interested in trying an electronic cigarette but don't know where best to start, give us a call at 0161 303 2520.
Liquid Vapour Cigarettes
E Cigarettes, sometimes known as liquid vapour cigarettes or more simply, e cigs, are one of the fastest growing industries in the 21st Century. This is why you see vape shops popping up in every town.
Vapour Cigarettes were initially developed as an aid to quit smoking. They did this by still providing a fix of nicotine - the addictive substance in real cigarettes - yet significantly less toxins than the real thing.
When you visit our e-cig shop based in Stalybridge, you be offered a choice of market leading liquid vapours for your device.
The "liquid vapour" refers to the principle of how an e cigarette works. When the user inhales, the atomiser heats up the liquid to a gaseous state, and mostly water vapour is exhaled.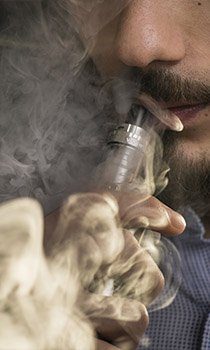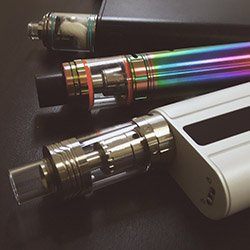 E Liquid Suppliers Near Me
If you live in Cheshire or Greater Manchester and are looking for e liquid suppliers near me, call into our vape shop in Stalybridge.
We pride ourselves on only offering the best service and quality vapour cigs for sale. All of our products are CE approved for maximum peace of mind.
Located outside Ashton Under Lyne, you can visit our vape shop at Stalybridge to try out any of our items before you buy. Our superb stock means that you won't find better prices or wider selection anywhere else. Join us today and enjoy the vaping delivery in action.
As your favourite vape shop in Stalybridge, we are committed to bring you the latest eLiquids, mods, kits, pens, e-cigs, tanks, clearomizers, atomizers, and replacement coils, all in one place.
Visit our Stalybridge shop today. Our friendly staff members will be more than happy to answer any questions you may have about vaping and if needs be, offer expert guidance and advice.

You can also purchase our products online. If you want to get hold of our high quality vaping stock but are not in the local area, we can still deliver to you. Our secure payment portal accept card payments over the phone or online.
Wherever possible we will dispatch your vaping items within the same day or at the very latest, the next day. Our reliable and speedy turnaround is partly why we have built an excellent reputation as an E cigarette and accessories supplier.
We are Greater Manchester's favourite vape shop for the best stock for vapour cigarettes and e liquid. Call in today at our Stalybridge shop or contact us on 0161 303 2520 to order your favourite vape juice flavours.
Vapours E-Cigs Ltd Stalybridge
25 Grosvenor Street
Stalybridge
Greater Manchester
SK15 2JN

Call Us